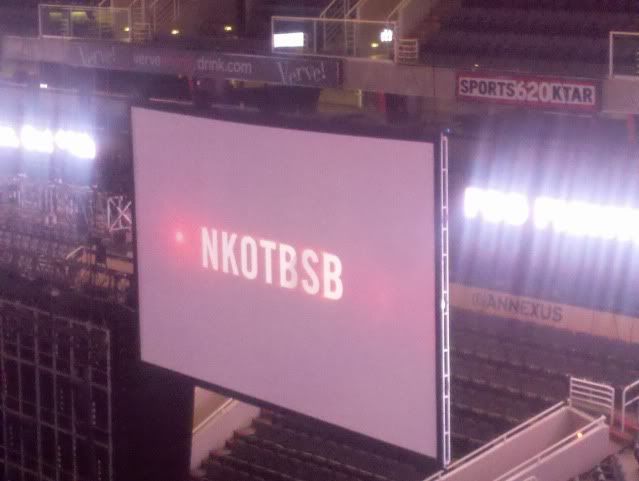 Confirmed, in the parking garage of the clear channel building, in Burbank, CA, a group of 6 very tired, yet very obsessed fans, " You are not crazy"
Here is where this story begins...
After many years of being in the closet with a secret obsession, fate brought me out, when i discovered some new found friends in grief, were also obsessed with the same thing I am... New Kids on the Block... Finally, after all these years of you tubing my favorite songs, I am able to talk New Kids. And we are all Donnie girls!!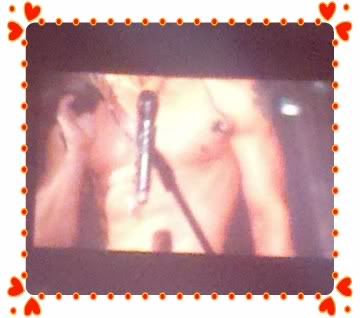 In the fall of 2010, we find out our boys will be coming on tour, and we knew we HAD TO GO!!! plans were made and hubbies agreed, and tickets were bought, for a summer concert in July, in Los Angeles. The date would not get here fast enough....
I was really hoping to go to the show in Phx on June 30, but I had a ticket to the LA show, and there was no way I could sway my hubby. Luckily, i am spoiled, and my sweet hubby got me a ticket for mothers day. I was a bit nervous to be by myself, but the excitement over ruled that.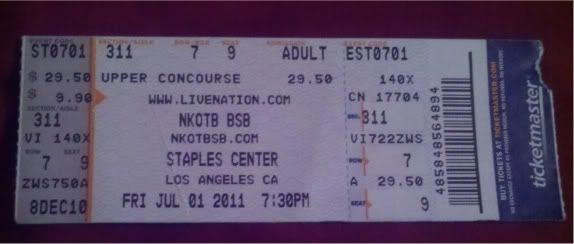 Fast forward to now. The big day arrives.
Wednesday, June 29, 2011
My super not crazy stalker friends, find out when the boys might be arriving into town. They decide to go outside of town to follow them in. the buses start coming. They follow. The boys wind up at at he Ritz in phx, and then the aggressive socialization begins. I was unable to join them that night, because of family plans but was excited to get the scoop. I spent my night packing for my trip, and taking my injured 2 year old to Urgent care. I knew I would have a lot to do in the morning, so i went to bed so i could get up early.
Thursday June 30, 2001
So excited. I cannot believe the day is here. I get up and go grocery shopping, and finish packing. I eat lunch with my family, then my hubby drops me off at my friends house, and bravely goes home to care for 4 children without me for 3 days. Christine and I start heading for the Ritz. Our friend Julie, and her daughter and her niece stayed the nigh tat the Ritz, among a few other New Kids fans. They were eating lunch when we arrived, so we stopped at the Starbucks across the way from the hotel, and had a drink. When our friends arrived, we went outside and started looking at the one bus, and discussing whose bus it was. Then Jon Knight comes walking across, so close to us, and walks into the Starbucks that we just left. In my mind I was exploding. I couldn't believe this! This was REAL and not a dream. We waited for a bit and he didn't walk out, so we went into the hotel, where they told us all kinds of awesomeness we missed the night before. I sat on a couch in the spot where Donnie sat. I was feeling so happy.
We decided to check out and head to the US Airways arena and see what we could see. We went to where the buses were parked, and stood there for a while. The Security guard was not nice, so we walked away, and scoped a little more. TO our surprise, when we came back, There was a new guy. Luis. So nice. He let us hang there and he talked to us and laughed at us. He even tried tried to help us find out who was below because we couldn't see Donnie's bus. Nice guy! While we were there we saw this white van go thru. then it stopped! and our came JOE MAC!!! He walked right over to us and talked for a minute and took some time to take pics. He was so sweet. I never was a Joey girl, but he earned a piece of my heart! After that we went to get ready for the show at a nearby hotel.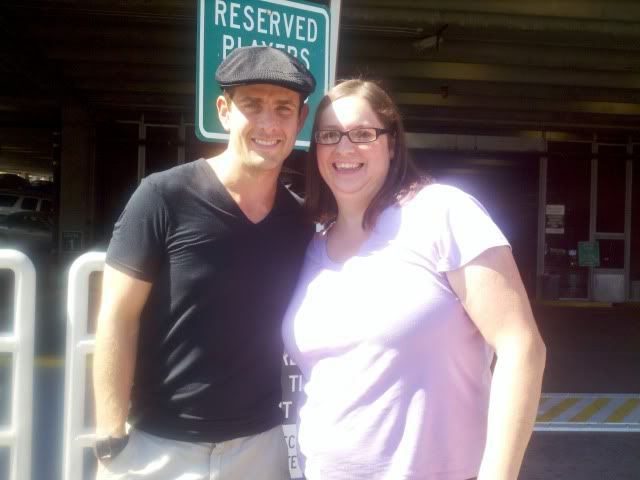 Joe looking for the sun! so cute!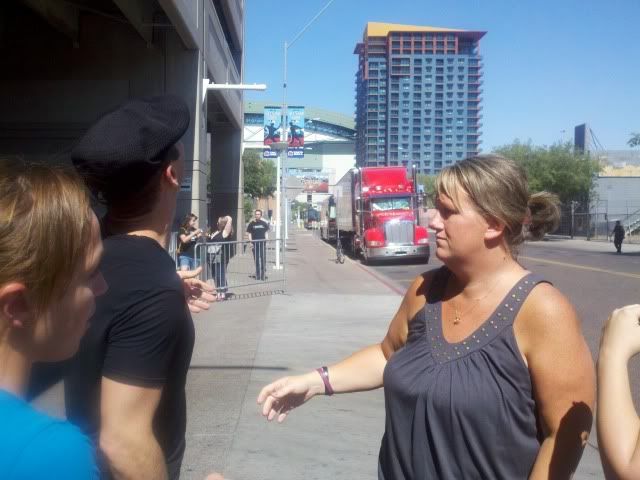 The show was AMAZING! I was so excited. I had a great seat, even though it was Nose bleed section. I don't think there was a bad seat in the place at all. The show was done so well. it flowed well, and was very exciting. I danced the whole night. The stage was great. I think whoever put the show all together did a fantastic job.
(this was recorded in the LA show, because the view was better for recording, and no, the girl screaming next to me was NOT being nurdered. LOL)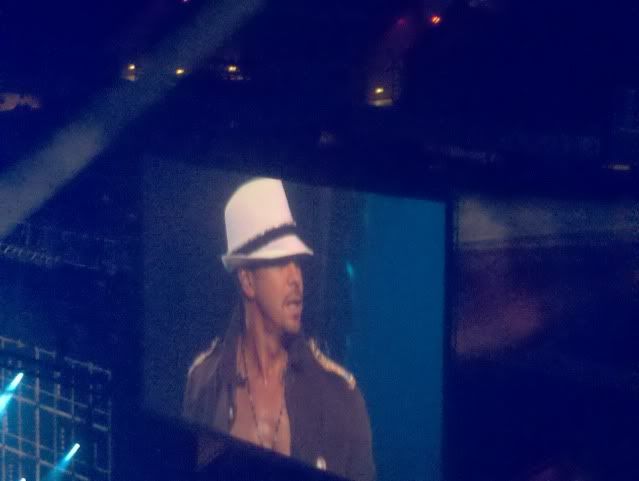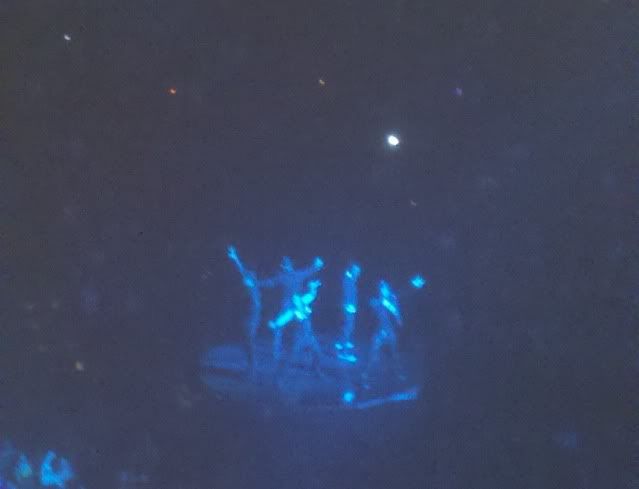 After the show it was back to buses. Our plan was to follow, and hopefully meet Donnie at Waffle house. but we never saw his bus leave. After a while, the local crew started coming out, and we even asked some of the guys for their shirts, and a few jsut took off their shirts and gave them up. My new shirt is blue. and other guys were throwing the guitar pics at us. It was pretty awesome we left the arena around 230am. and started our drive to LA. We caught up to many of the rigs moving their stuff, and then caught a couple buses. we play cat and mouse with the bus drivers for a while, but we pulled off to switch drivers, so we lost them. it was kind of funny. It was like you could totally tell the drivers were well entertained by us!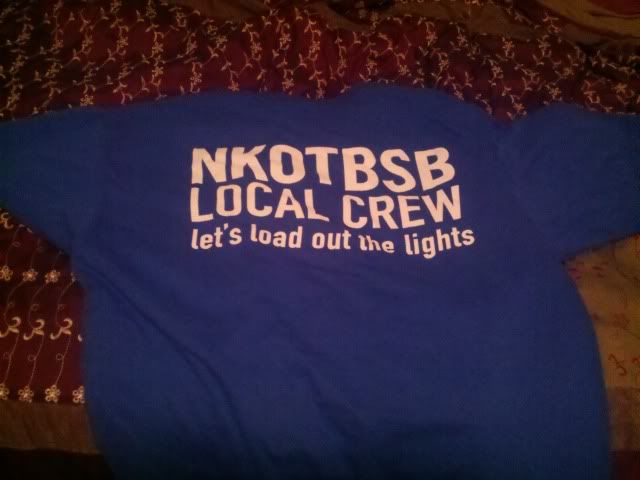 Totally JUST noticed that the Pick is signed bu "Fish" It is faint, but there. I am going to stop touching it now. LOL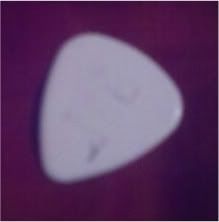 Friday July 1, 2011
We had found out that Donnie and Jordan were going to be on the Ryan Seacrest show on Friday morning, so we decided to find the studio and find our boys! I was going on hour 26 of no sleep, but managed to find the studio, and go in. After walking around for nearly an hour, and trying to figure out where the boys were, someone told us that Ryan was in new york, and was not in Cali to do a show. We told her that we knew that Donnie and Jordan were doing the show, and she said they must be in NY. We said that was impossible, because they had a show in LA, and she said. OH, then they must have called in. She then told us " you are not crazy!" There it is confirmed, even after she knew we saw them in phx the night before, tried following them to CA, and then we were wandering around clear channel in Burbank, before sleeping and going to another show that night. We are NOT crazy! ( Earl probably would disagree. LOL)
After going to my uncles house, and catching some sleep, we went to the Staples Center, to find that the Anime convention was getting out at the same time the NKOTBSB concert was getting ready to start. At least we were heavily entertained with all the costumes while we waited to park. This may have been a slight poor planning issue somewhere, but it went relatively smoothly. I was kind of shocked. As soon as we got to the arena, our group split again, because some had close seats, and others (me and Christine) had nose bleeds. We had some time to kill so we went to find the buses, and there was Donnies elusive all tan bus with his Boston Red Sox plate in the front window. The security guards were not nice, so we made note of what was where and we went in.
This show was just as good. I was excited, even though i had seen the show only 24 hours before. There was a LOT more BSB fans that New kids fans. seemed different from phx. our seats were in section 311 in the last row, and still we had great seats. It was hard for pics, because I didnt have my camera, just my phone. But it was great.
We had tickets for the after party, and this is something i will NEVER forget. D-Dub party at the conga room at LA Live. It was the BEST time. Lots of fun dancing, singing, and d-dub flirting. I am thinking it was about 2 hours or so but i wish it was longer. He is all kinds of sexy! he invited us all to Utah on Monday to get married. HEHE. I wouldnt really mind but i think my hubby would. LOL
we hung out for just a few minutes and then we had to go to the car. when we were leaving we noticed Donnies bus, and it pulled away right in front of us. So of course, we followed! It didnt go anywhere though, just to the other side of the arena. we made a couple of circles, but decided to just go back to my uncles house to sleep.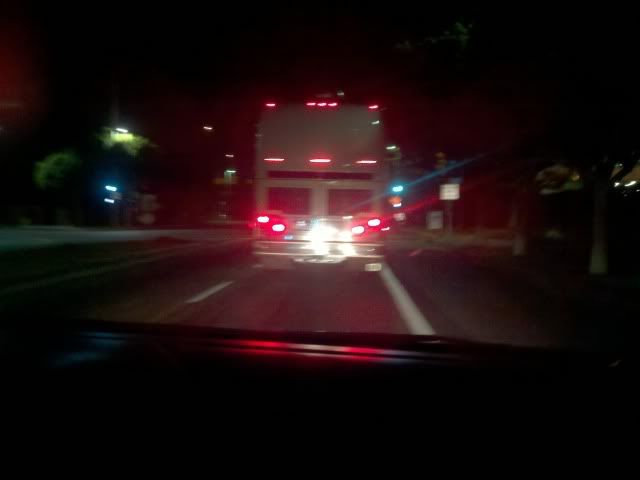 The way home was very entertaining. While we were traveling, everyone in the car was sleeping except Christine and I. We had so much fun just laughing at everything. Including the idea of us running out of gas, when her gas light came on. We were about 40 miles from the closest gas station, and her gas calculator thing said we had 25 miles to go, before we would be on the side of the road. Not much we could do about it, so we laughed and laughed. I dont think others thought it was that funny, but I sure did. When someone asked, "how could this have happened" Christines witty response of, "well, you are not really in a car with the people with the best luck" was too much. 4 of the 6 of us had lost at least one child, so luck is not really on our side. It was very funny. even though it was 115 degrees outside. we had no water, and a couple of us were slap happy exhuasted. LOL
This trip was one of the best times i have ever had. leaving at 12 on Thursday, and getting home at 10 on saturday night, and not doing much else in the in between, other than new kids stuff. Eating gas station meals, for every meal, but only when absolutely needed. LOL taking 5 hour energy for the first time, but sadly it only lasted for 3 hours. I was hit on by a super butch lesbian at the club, who didnt even like New Kids, but maybe she thought a club filled with women, and no men, might be worth a shot. LOL Dancing for hours on end. Meeting JoeMac. Not drinking too much, so we wouldnt have to pee at a bad moment. Doing whatever it takes to see our boys. Already dreaming of next year. Singing the songs ALL THE TIME.
But remember...
She said we are not crazy!